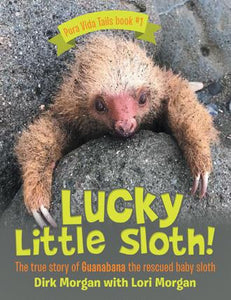 Lucky Little Sloth! Softcover Book By Dirk Morgan with Lori Morgan

The true story of Guanabana the rescued baby sloth

Many animals make their home in the wild jungles of Costa Rica — howler monkeys, spider monkeys, and capuchin monkeys, parrots, macaws, pumas, ocelots and other large cats. And there are also endangered sloths.

A mother 2 toed sloth and her young pup watch the world below from high up in a tree; the mother teaches her baby how to travel unseen, slowly and safely, through a dense jungle canopy reduced by humans. When a tropical storm strikes, however, the mother and baby struggle to find a safe place to stay. As darkness approaches a branch breaks, and the baby sloth falls into the flooded creek that washes him out to the stormy ocean, he just barely makes it to the beach. What will happen to him when the couple living nearby come upon the baby sloth during their early-morning walk?

This remarkable true story for young readers is about a helpless baby sloth rescued from a remote beach in Costa Rica. It teaches us all a message of conservation, love, and hope for the future of animals and man living in harmony.

About the Author - Dirk and Lori Morgan share a love for rivers and the wilderness. They are committed to valuing and protecting nature while teaching people to enjoy it responsibly. The Morgan family are owners of an outdoor recreation company in the United States, and a rustic eco lodge in Costa Rica.