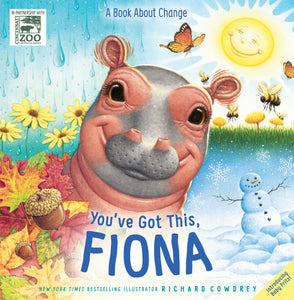 You've Got This Fiona - A Book About Change by Richard Cowdrey

Introducing Fritz the Hippo

Join your favorite hippo, Fiona, the adorable internet sensation from the Cincinnati Zoo and Botanical Garden, in this perfect read-aloud picture book, You've Got This, Fiona, as she learns about the changing seasons of the year and how, even when things change around you, true friendship, family, and love stay the same.

Fiona notices that things are changing--her friends the geese are flying south, the leaves are turning different colors and the weather is getting cooler, her baby brother Fritz is born and brings change to Hippo Cove. But Fiona also wonders is everyone and everything going to change? Fiona gets a little worried ... and so she heads to Mama and her friends, looking for answers.